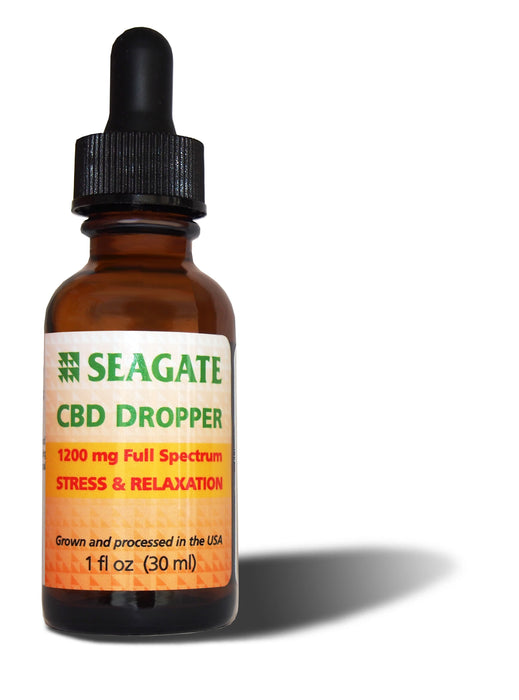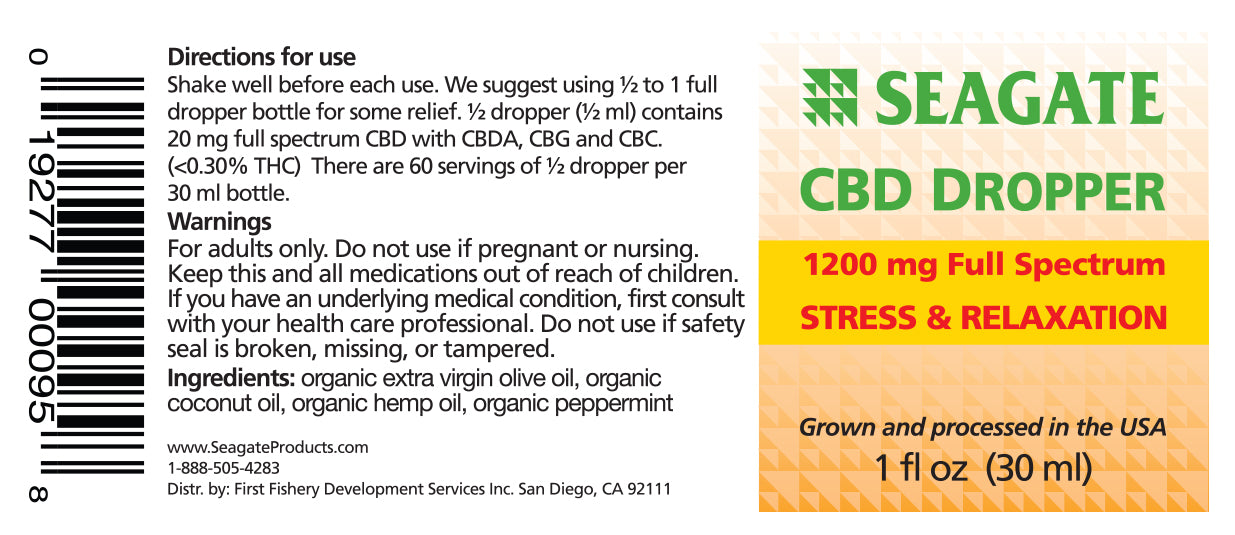 CBD Stress & Relaxation 1 oz Dropper
** Please note that to purchase our CBD products, you must be of legal age in your jurisdiction, as we strictly adhere to all applicable laws and regulations.
Seagate CBD products are derived from Hemp cannabinoid species that have high CBD levels and negligible or non-existent THC, eliminating the psychoactive effect commonly experienced from pot plants. The coconut oil and the olive oil contained in this product are used as carrier oils to deliver the CBD and the other full-spectrum components of the cannabinoid oil. The organic peppermint oil is present in a very small amount in order to take the edge off the strong cannabinoid taste.
Suggested use: Adults take ½ to 1 full dropper equivalent. You may notice some relief within 30 minutes of application. The CBD should have a calming relaxing effect.
One 30 ml bottle contains the equivalent of 30 full droppers. If you are trying to fill the dropper to 100% of its capacity, you will end up between ½ to ¾ full dropper. That is the way these droppers work. Just draw out some more if you desire to have a 1 dropper equivalent.
Lab testing – Each 1 oz bottle contains the equivalent of 1200 mg of CBD, the level that we have found to be most effective. Each batch has been lab-tested by an independent lab prior to mixing and after completing the production of each batch.
Customers please note: The 4 CBD Dropper bottle products – Sleep; Mouth & Gums; Muscles & Joints; and Stress & Relaxation – are made from one identical formulation.  After surveying some of our stores and individual customers, it was decided that naming each Dropper for its specific use would result in the focus being on their application.  The alternative of making a list of the uses on a small panel on one single label, would not have been easily noticed.  This is done for marketing purposes. Therefore, if you were to purchase a CBD Dropper for Stress & Relaxation, that same bottle would work equally well for the Mouth & Gums application or for Muscles & Joints or for Sleep.
Cold Weather Notice: During the winter months and for customers who live in cold climates throughout the year, these CBD dropper bottles will be exposed during transit to temperatures below 65F. This will cause the oils contained in the bottles to thicken and appear "fatty". This is the result of the oils changing back to their original fatty state. This will not affect the quality of the product. By warming the bottle in your hands or pocket for a few minutes, will allow the fatty material to revert back into oil.

Lab Report