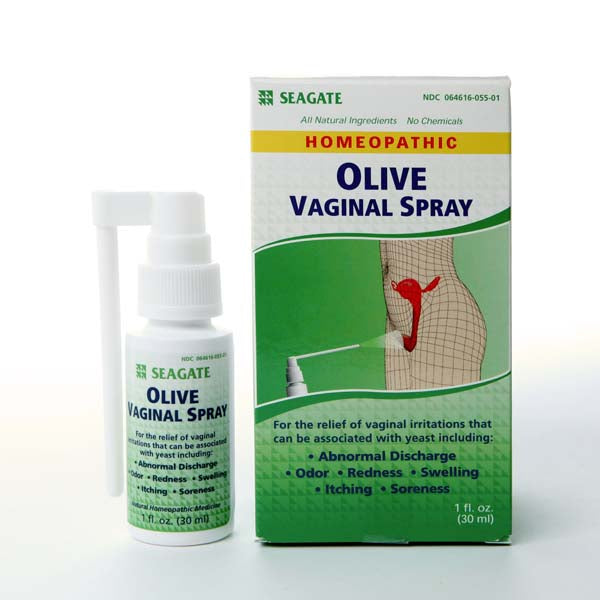 Indications: For the relief of vaginal irritations that can be associated with yeast including:
Abnormal discharge
Odor
Redness
Swelling
Itching
Soreness
Relief: Olive Vaginal Spray is an all-natural homeopathic medicine that can offer relief from a variety of vaginal irritations, both internal and external. Some of these irritations can be associated with yeast. This product offers an alternative to the harsh chemicals found in many over-the-counter vaginal yeast medications.

Suggested use: Apply this product before going to bed at night and upon waking up in the morning for up to 10 days as needed. Apply 2-3 sprays for each use. You can apply more sprays if you require. This is a homeopathic medicine and will not cause an overdose if used in higher doses than the suggested use. The tapered tip allows for comfortable application. The sprayer provides a strong yet comfortable squirt of product, deep into the vaginal cavity. The product can also be applied externally to the vulva.

The 1 oz. bottle delivers a measured dosage of 0.13 ml per spray, which provides an approx. total of 200 sprays per bottle. The sprayer tube can be washed in hot soapy water, dried and reused. An additional 10 replacement applicator tubes are provided in the product carton.

Warnings: Before using this product, read the Olive Vaginal Sprayer Consumer Information leaflet link which also is provided in each product carton. The warnings include: STD's (sexually transmitted disease); when to seek the advice of your doctor; possible side-effects; and stopping usage and seeking medical advice if you have a more serious condition.

Ingredients: The active homeopathic compounds include: Borax 8x; Helonius 8x; Kreosotum 12x; and Platina 12x. These active homeopathics are in an oil base that contains olive oil and coconut oil, along with the concentrated omega-3 fatty acids and natural vitamin E which provide excellent antimicrobial and antioxidant protection for the skin.

Product development: This product represents over 10 years of experience by Seagate in producing products for the treatment of skin rashes, burning, redness, cracking, and itching skin for a variety of conditions that include diaper rash, eczema and athlete's foot. Specific development and testing of these natural compounds for application specific to vaginal irritations resulted in this safe and effective new product. This 3-inch swiveling tapered sprayer was designed by Seagate.

For additional comfort and support: It is highly recommended that you reduce your intake of sugars and carbohydrates when using Olive Vaginal Spray, and consider concurrently taking as a supplement Olive Leaf Extract.

Questions? Questions of a medical nature, please contact your pharmacist, doctor or health care professional.