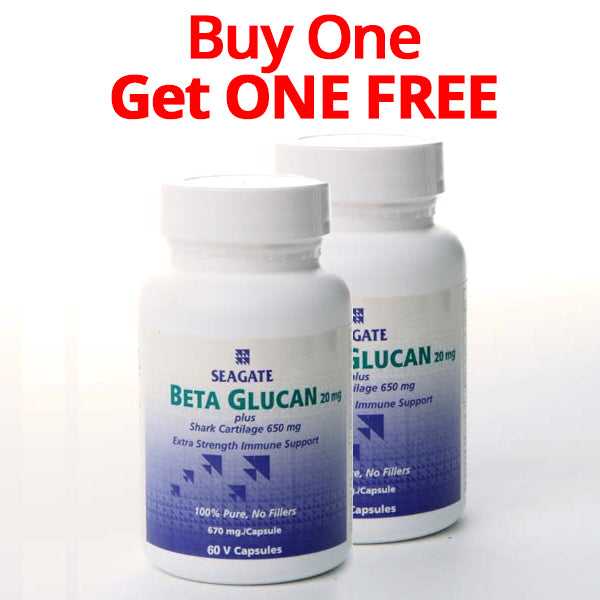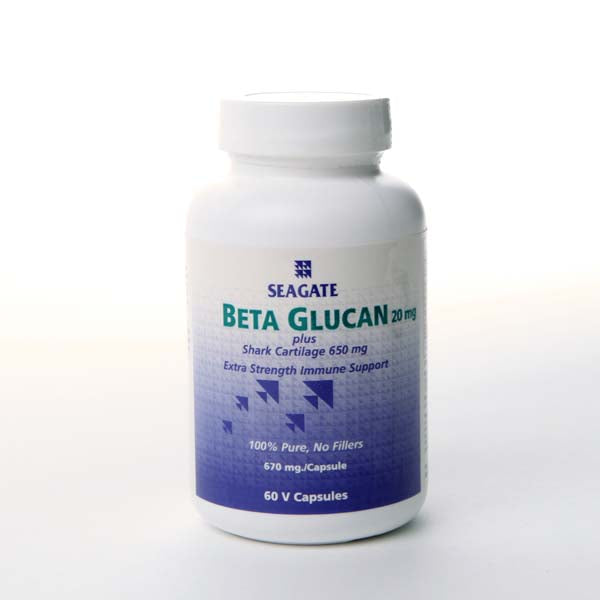 Seagate has developed this therapeutic strength premium immune support supplement by combining two clinically-tested products in one capsule: 20 mg. of Beta-1/6,1/3-Glucan, a highly purified polysaccharide derived from the maitake mushroom, with 650 mg. of Seagate freeze-dried 100% pure Shark Cartilage. 
Buy 1 Get 1 Free bottles do not count towards any additional discounts.
Purity: Some oriental mushrooms possess immune system stimulating properties, that are derived from an active polysaccharide molecule, known as Beta Glucan. Although the source is a mushroom (a fungus), the extraction process provides a highly purified molecule that no longer has any relationship to its fungal source, and in fact has anti-fungal support properties. 

Pricing: Beta GS with 20 mg. of Beta Glucan is priced at half of the leading brands, while delivering twice the mg/capsule, a savings of up to 75%. One Seagate capsule has twice the mgs. of the leading competitor's Beta Glucan. As an added benefit, Seagate provides a full 650 mg. fill of shark cartilage as the carrier. 

Concentration: Maitake derived Beta Glucan has a molecular wt. of 1,000,000, in a highly complex, heavily branched molecule that make it insoluble in acid, but water soluble, ideal for surviving the digestive acids in the stomach, while being 100% absorbable in the intestines.

Combination: Both Seagate Shark Cartilage and the Maitake derived Beta Glucan have excellent immune support characteristics. Shark Cartilage has been used as a dietary support by people with joint and related issues. By providing both products together in one capsule, Seagate has provided you with the premium immune support product.

Fillers: There are now various Beta Glucan products on the market. Some companies fill their capsules with inactive Beta Glucan components that are normally separated out as waste during extraction, in order to present labels having high mgs. Seagate uses only the active Beta-1/6,1/3-Glucan molecule in this product. In addition, some companies use maltodextrin (sugar) or chitin (a seashell extract) to fill out the balance of their capsules. Seagate chose to combine shark cartilage in their Beta GS capsule to provide product that is actually beneficial to your health, rather than use fillers.

Suggested Use: Beta GS is the product recommended for therapeutic support, 3-5 capsules/day, with or between meals. This product can also be used for maintenance support, 1-2 capsules/day, or as directed by your health care professional.