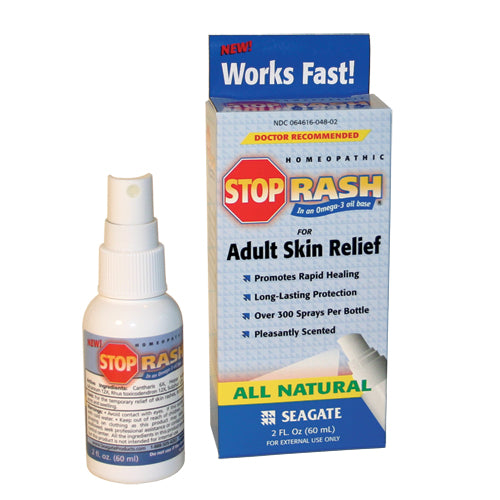 STOP RASH - Adult 2 oz Spray
Skin Rashes - Itching - Sores - Swelling - Inflammation - Scaling
Stop Rash represents 5 years of new product development and testing by Seagate to create this economical and easy-to-use natural topical adult rash spray in an Omega-3 Oil base. Most people will experience immediate relief using this product. Stop Rash provides the following benefits:
- All-Natural Homeopathic Remedy
- Immediate Relief on Contact
- Anti-inflammatory
- Omega-3 Fish Liver Oil Base Nourishes Damaged Skin
- Antimicrobial Protection from secondary skin infection
- Promotes Rapid Healing
- No Messy Clean-up, Stop Rash Absorbs into Skin
- Long-Lasting Protection
- Safe, Even if Swallowed
- Topical Spray Eliminates Hand Contact with Irritated Skin
- Pleasantly Scented
- Doctor-Recommended
- Economical – approx. 325 single spray applications per bottle
Indications:
 For the temporary relief of skin rashes, itching skin, sores, swelling, inflammation, red and swollen skin, scaling, and painful burning of the skin.
Conventional rash treatments typically are chemical-based, and are very messy to apply and to clean up. In fact, most rash remedies are virtually identical to each other, utilizing zinc oxide in a cream. Topical application of conventional remedies by hand, whether on yourself or to another adult if you are a care-giver is neither an easy nor pleasant job. The application of these creams by hand can further irritate the skin.
Adult Rash Relief:
 Skin rashes can be an inconvenience to some adults and debilitating to many others. Most people get rashes typically in areas where their clothing absorbs moisture and rubs against their skin almost like sandpaper. Whether the rash is from exercise, work, or incontinence STOP RASH spray eliminates the need to touch the affected area of skin and cause further irritation.
Economical:
 Stop Rash uses a very economical spray atomizer that can provide up to 325 sprays per bottle, which can represent between five and ten times more applications than a tube of conventional rash cream.
Topical Application:
 Gently shake the bottle before each use. If the product has solidified in the bottle (the natural coconut oil in this product will solidify below 75°F), simply warm the bottle for a few minutes in warm water or in your pocket. Depending upon the type of rash, you may need to wash the affected area first, particularly if you are the care-giver for an incontinent individual. The spray cap on this bottle does an excellent job of atomizing the oils. One spray will give coverage to a large area of skin. One or two sprays are usually sufficient treatment for most skin rashes. Apply as needed throughout the day. Stop Rash will absorb quickly and encourage the skin to heal naturally. In most cases you should notice immediate relief.