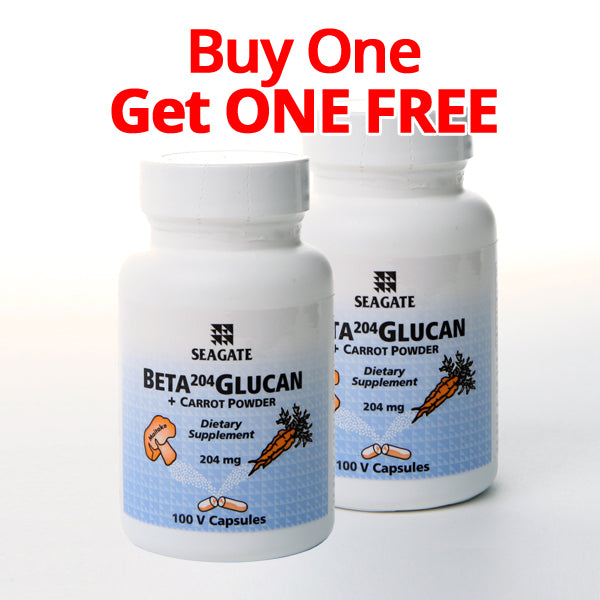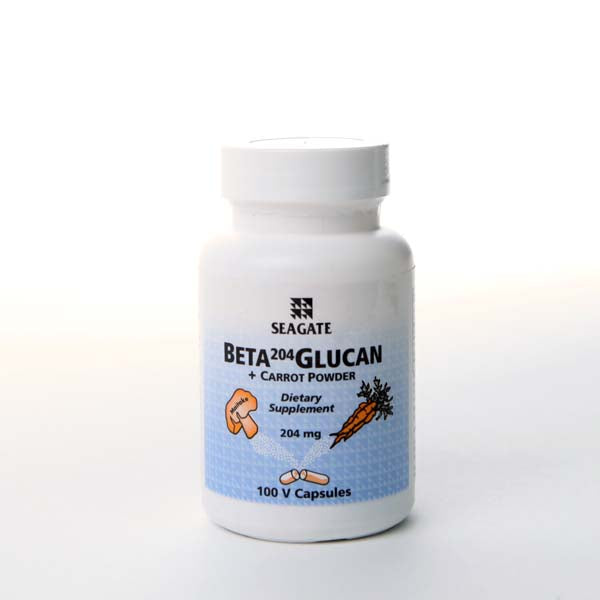 Beta 204 204mg 100 V Caps
Seagate developed this maintenance strength version of this immune support supplement by combining 4 mg. of Beta Glucan with 200 mg. of our organic carrot powder. This is the same b-glucan polysaccharide used in the Beta GS product, but at a lower mg. and inside a smaller capsule.
Buy 1 Get 1 Free bottles do not count towards any additional discounts.
Capsule Size: Beta 204 Glucan employs a small easy-to-swallow child-sized capsule. This product is designed for either adults or children.

Pricing: One Seagate Beta 204 capsule costs about half the price of the maintenance level products produced by the leading brands. Seagate's product is available in 50 and 100 capsule bottles. Beta Glucan does not have to be expensive to be effective. Seagate is able to provide almost twice the number of capsules compared to other Beta Glucan products, and at lower cost.

Beta Glucan plus Betacarotene: Carrot powder, the other ingredient in the Beta 204 capsules provides the immune support of Vitamin A that is converted by the body into Betacarotene, along with 400 other carotenes available from Seagate organic carrots.

Purity: Seagate does not employ any filler or excipient in this product. Where other Beta Glucan products utilize sugar or chitin fillers, Seagate combines two clinically-tested premium products.

Fillers: Unfortunately, it has become common practice in this industry to utilize useless fillers in capsules, and minimize the active ingredient. Although this may contribute to a company's profits, it does not provide the best and most effective product for the consumer. Seagate uses a second active ingredient, carrot powder, because it works well in conjunction with the Beta Glucan.

Micronization: Some Beta Glucan brands extol the fact that their Beta Glucan particles are micronized for absorption. What they may not have mentioned is that their beta glucan must be micronized in order to be absorbed because their product is insoluble in water. Seagate Beta Glucan has both small particle size and water solubility, which make it ideal for absorption across the intestinal membranes.

Suggested Use: This product is safe for adults and children. For maintenance support take 1 to 2 capsules three times per day, with or between meals, or as directed by your health care professional.