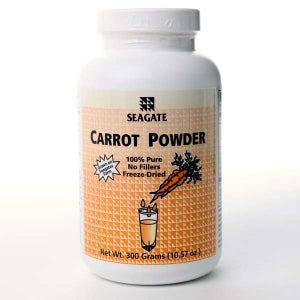 Farming:
 Seagate has developed a unique freeze-dried Carrot Powder made from our own organic carrots. Seagate grows a very sweet variety of carrots on our farm, located on a cattle ranch in a very remote region in the Sierra foothills, far from any towns or other agricultural activity. Seagate uses fishmeal as its primary fertilizer and adheres to strict organic farming methods. Each crop is harvested at peak flavor and is transported directly to their processing plant located nearby.
Purity:
 Seagate grows these carrots on land that was never exposed to other agricultural activity. These carrots have been tested to be free of chemicals and pesticides by a lab certified for testing by the State of California. Seagate controls the entire process from seed selection, to growing, fertilizing and watering this crop to ensure the highest quality, purity, taste, and nutritional value.
Processing:
 Seagate carrots are freeze-dried and cryogenically ground into a fine powder in our plant. The entire carrot is used in this process. Nothing is discarded. This method captures all the delicate nutrients and natural sweet taste in a highly concentrated powder.
Taste:
 Seagate Carrot Powder reconstituted with water will make a rich, sweet tasting juice having pulpy texture, the result of utilizing the entire carrot in their process. Unlike certain other carrot powders that use maltodextrin in order to sweeten their product, Seagate Carrot Powder is 100% pure containing no fillers, and is naturally sweet as a result of the carrot variety chosen and the method of processing.
Better than Juicing:
 Seagate carrot powder provides the convenience of always having a rich organic juice available, without the need to clean or even purchase a juicer. Seagate's carrots are delivered direct from our farm to our plant on the same day they are harvested, without being trucked across country and stored in warehouses for weeks. Seagate grows these carrots, has kept them chemical free, and has maintained complete control over the farming and processing. Are the "organic" carrots available in health food stores laboratory tested? Seagate Carrot Powder is better than juicing, because it has many more applications other than mixing the powder with water. Please visit our 
carrot powder recipe
 section.
Value:
 One glass of juice made from Seagate Carrot Powder costs about $1.00 per serving.
Emergency Food Source:
 Seagate Carrot Powder should be stored in its tightly sealed container in a cool dry place, away from direct heat or sunlight, and without refrigeration. This product is an excellent source of food during any emergency, during travel or stored in the home, since it only requires a source of clean water in order to be reconstituted back into a juice.