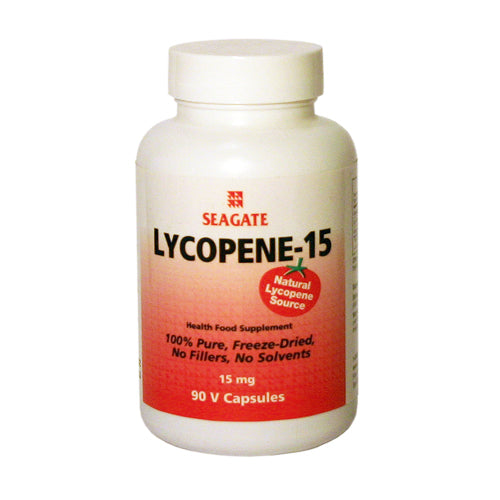 Lycopene-15 15mg 90 V Caps
Benefits:
 Lycopene is a powerful antioxidant phytonutrient that has been linked to promoting cardiovascular health, along with being beneficial to the prostate and cervix. Lycopene is naturally-occurring in vegetables having red color such as watermelon, red peppers and tomatoes.
Concentration:
 Seagate has developed a chemical-free method to concentrate the tomato's natural lycopene along with all the other phytonutrients contained in the tomato. Independent lab testing of this product has provided a consistent 3% (15 mg) lycopene level using UV methodology. Seagate is one of the few lycopene manufacturers that does not use solvents to concentrate their lycopene.
Suggested Use:
 Take 1 to 2 capsules per day. Each capsule contains the equivalent of one whole tomato -- 15 mgs lycopene, plus betacarotene, phytoesterols and all the other nutrients found in whole tomatoes.
Farming:
 Seagate carefully selects their seeds to ensure that this variety of Roma tomatoes has not been genetically modified. Seagate operates their own farm, currently in the process of applying for organic certification, deep within the remote hills of Baja California. Seagate uses their own fish fertilizer to grow these tomatoes, free from all pesticides and chemicals.
Lycopene controversy:
 There are more than 100 U.S companies posing as if they were the real "manufacturers" selling lycopene under their own brand. Other than Seagate, there are very few (if any) which grows their own tomatoes or processes their own lycopene. This situation is typical of the U.S. health food industry where companies wish to add on a product which has suddenly become popular with the consumer. The lycopene used by most of these U.S. companies is supplied by one overseas source. Unfortunately, this overseas supplier uses a toxic solvent called ethyl acetate to concentrate their lycopene. While it is easy to add this solvent to the process in order to expedite the lycopene concentration, it happens to be very difficult to remove the solvent from the lycopene after the processing. Most of these U.S. brands are likely unaware that the lycopene they purchased has 25 to 50 ppm of residual ethyl acetate that is being passed on to the consumer in their softgel capsules.
Economy:
 Seagate is able to pass along the cost efficiencies realized in both their farming and processing due to their increased levels of production and assorted technical improvements. The 90 capsule Lycopene-15 bottle is one of the least-expensive lycopene products on the market, similar in price to the 30 and 60 capsule bottles sold by the major brands but without their residual ethyl acetate.