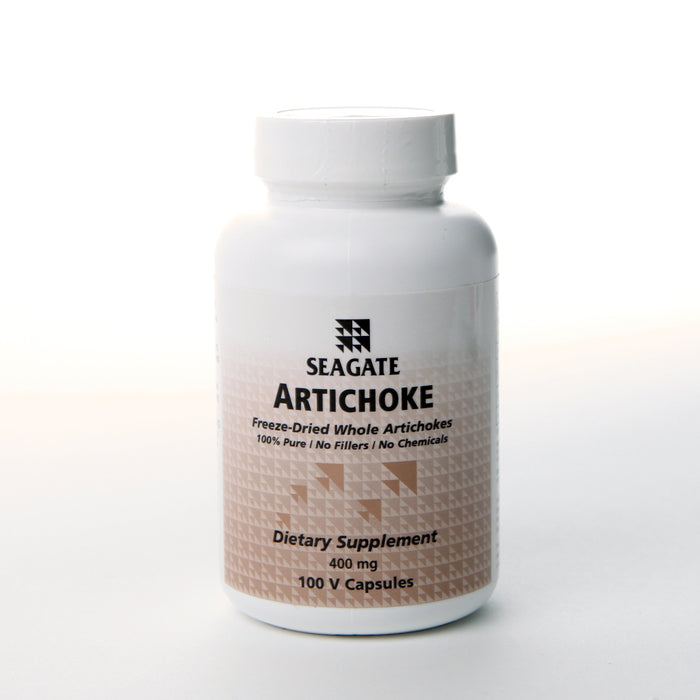 Artichoke 400mg 100 V Caps
Benefits: Artichoke is one of those vegetables that everyone knows is very important to eat. However, very few people take the time to prepare it, and deal with peeling the endless leaves to reach the small central core. Artichoke is a non-fat, non-cholesterol, low-carbohydrate, high-fiber and high antioxidant food, that helps as a digestive aid, and supports liver and gall bladder function.

Suggested use: Take 2 capsules/day. One serving of 800 mg. is the equivalent of 16 grams of raw artichoke. One raw artichoke flower bud, which includes the leaves plus the center core, would be the equivalent of 25 servings of capsules.

Raw material: Seagate grows artichoke on their farms located in northern Baja California. Seagate has been farming vegetables and fruits since 1997. While most health food companies must perform complicated identity-testing using independent labs in order to prove that the ingredients that they purchase are really what they claim to have in their bottles, Seagate does not have this problem because they supply and process their own raw materials.

Seagate plants their artichoke during the Spring, and harvests the crop in early Summer. The entire flower bud of this plant converted into a powder. The leaves plus the heart are ground up into smaller particles and are freeze-dried, capturing all of the valuable nutrients.

Purity: There are no chemicals or pesticides used on Seagate's farms. Seagate uses their own fish fertilizer plus selected natural vitamins on all of their crops. Fish fertilizer has provided Seagate with very high yields and very healthy plants that are resistant to attack by insects, parasites, and fungus.