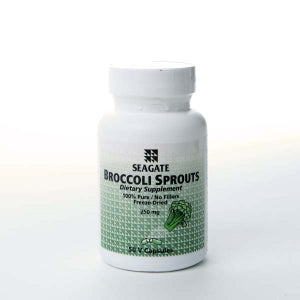 Farming:
Seagate grows our organic broccoli in a remote river valley near our factory. Broccoli farming is extremely labor-intensive, requiring the transplanting of each individual seedling by hand to our farm after the initial month of growth in our greenhouse. Seagate uses well-water for irrigation and fish fertilizer concentrate as the only soil additive.

Harvesting:
 A 1997 Johns Hopkins study discovered that broccoli sprouts contain a concentration of glucoraphanin that is up to 50 times greater than mature broccoli. Seagate harvests the sprouts by hand before they reach maturity, to achieve a maximum level of phytonutrients.
Manufacture:
 Seagate processes this broccoli in our own plant, utilizing freeze-drying and cryogenic-grinding techniques, the most delicate methods available for preserving the valuable phytonutrients. The resulting powder has never been exposed to heat, or the need for cooking, which can reduce the level of nutrients from the raw vegetable.
Concentration:
 The powder contained in Seagate broccoli capsules represents a 20X concentration of the original raw plant. One 250 mg. capsule is the equivalent of 5 grams of raw broccoli.
Purity:
 Seagate broccoli is 100% pure, containing no filler or excipient. Seagate uses pure vegicaps.
Taste:
 The encapsulation of the freeze-dried powder eliminates the need to taste the broccoli. However, for those people who enjoy its smell and taste, try opening a capsule and tasting the raw powder, or adding it into soup or sprinkling it over salads.
Convenience:
 Seagate Broccoli capsules eliminate the need to shop the raw vegetable, refrigerate, prepare, cook or even taste it. This is an advantage for people wishing to maintain proper nutrition, but do not have the time to prepare fresh broccoli. For people who are traveling and are unable to maintain a proper diet, Seagate Broccoli is a healthy alternative to snacking and fast-food.
Use:
 Scientists at Johns Hopkins Medical School published a study in 1997, Broccoli sprouts: "An exceptionally rich source of enzymes", reinforcing what mothers have known for generations -- broccoli is a very important food. However, many people either do not take the time to prepare it or just do not like its taste, leaving this key vegetable out of most regular diets. Seagate created this highly concentrated, organic, freeze-dried broccoli powder in convenient capsules that make broccoli easy to take on a daily basis. Adults and children can take 2 capsules per day as part of a healthy diet.