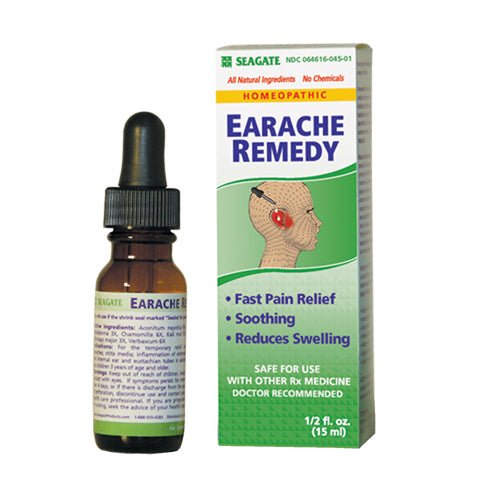 Earache Remedy 1/2 oz Bottle
Earache Remedy – Doctor Recommended
An all-natural remedy offering relief for most earaches. Taken together with the Olive Leaf Nasal Spray, you can wash away the germs while offering fast relief. Using plant-based remedies can be an effective strategy without the side-effects of pharmaceutical drugs.
Suggested uses:
For an active earache, apply 1 drop in each ear every 3-4 hours.
If exposed to unclean environments (public pools, lakes or polluted oceans), apply immediately after showering.
If the earache is prolonged >4-5 days or gets worse, see the advice of your doctor.
If the child or adult has a fever or has other possible signs of infection such as a sort throat or diarrhea, consult a physician.
Most earaches will resolve on their own without pharmaceutical drugs.
Strong enough for adults, gentle enough for children, Seagate Ear Remedy should be kept in every medicine cabinet in advance of the cold and flu season.

Indications: For the temporary relief of ear irritations, otitis media, inflammation of external and internal ear and eustacian tubes.

Homeopathy a natural approach to medicine that works without contraindications (interference with other medications you may be taking) or side effects to stimulate the body's curative responses so the body heals itself. Homeopathy is different from conventional medicine because conventional medicine simply defines health as the lack of symptoms (if you reduce a fever with aspirin, is your cold gone?). Homeopathy defines health as the lack of disease (if you get rid of the source of the fever in the process of dealing with the source, the fever will disappear on its own.) Homeopathic medicines stimulate your body so your body heals itself by dealing with the sources of your symptoms.

Precautions: Ear Remedy is a very safe homeopathic formulation for use by adults and even children. Seagate has never received any complaint of adverse effect from this product, or contraindication with any prescription medication. If you wish to use this product on children less than 3 years of age, you should first seek the advice of your health care professional.

In addition, the standard medicine precaution for pregnant and nursing women is given, to use this product after seeking the advice of their health care professionals. If symptoms persist for more than 4 days, or if there is discharge from the ear or perforation, discontinue use and contact your health care professional.

Ingredients: Seagate Ear Remedy homeopathic medicine is formulated and manufactured utilizing only natural ingredients in accordance with strict FDA pharmaceutical standards to ensure safety and purity. Seagate utilizes six homeopathic ingredients as the actives - Verbascum, Plantago major, Kali mur, Chamomilla, Belladonna and Aconitum napellus in a base of Olive Leaf Extract and Grapefruit Seed Extract. Each of the ingredients has been chosen for either their control of ear irritations or for their supporting antimicrobial properties. These ingredients and their dilutions are listed in the HPUS (U.S. Homeopathic Pharmacopoeia) as safe and effective treatments for the indicated symptoms.

Directions: It is advisable to warm the eardrops prior to use by gently rolling the bottle between your hands. Apply 2 to 3 drops into the ear by tilting the head sideways, taking care not to touch the applicator to the ear canal. Keep the drops in the ear for several minutes by keeping the head tilted. Repeat 2-3 times/day for up to 4 days if needed, or as directed by your health care professional.

Independent Laboratory testing: Ear Remedy was subjected to in-vitro - challenge - testing designed by the FDA to reveal this product's potency and stability against inoculations of millions of colonies/gram of bacteria (E. coli, Staph, and Pseudomonas), fungus (Candida albicans), and mold (aspergillis). The FDA requires that the bacteria be reduced to 1/1000th the original inoculation level by the end of the 28 days test period. The FDA does not require any fungi or mold colonies be killed; instead, the product has to show that it is not acting a medium for further growth. The results of the testing (download pdf) prove that the product surpassed the requirements within 60 seconds. In addition, all the fungi and almost all the mold were killed within 6 hours, far surpassing all test requirements.

"The American Academy of Pediatrics and The Academy of Family Physicians are expected to recommend that doctors stop treating most ear infections in children with antibiotics, in order to stop the rise in antibiotic-resistant drugs. This contradicts years of pediatric practice. About 10 million prescriptions are written (in the U.S.) each year for ear infections in children."