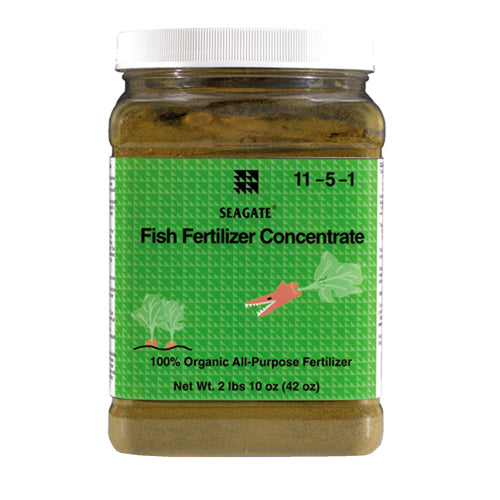 Source:
 Seagate Fish Fertilizer Concentrate (FFC) is a natural fertilizer derived from whole anchovies and sardines caught along the shores of Baja California. The highly concentrated powder in this container is made from and is the equivalent to 16 lbs. of whole fish. FFC is a multi-purpose long-lasting indoor/outdoor fertilizer that can be applied to flowers, trees, and vegetables, and last up to 4 to 5 months between applications. For most plants, no other source of fertilizer is necessary.
Applications:
 For maximum effectiveness and minimum smell, Seagate FFC should be applied below the surface of the soil, poured into a small hole opened near the plant's roots. The hole should then be completely covered with soil to prevent unpleasant odors from escaping. FFC is a very long lasting fertilizer that works on the principle of utilizing the slow natural bacterial decomposition of the fish into its protein and mineral components. This slow nutrient release prevents the danger of root-burn common to many liquid and chemical-based fertilizers, while continuing to feed the plant a steady diet of the key nutrients for months.
Existing plants and flowers
 – Pour one teaspoon of FFC into the hole. Larger plants and rose bushes may need up to a heaping tablespoon. The ideal time to apply FFC to rosebushes each year is one month prior to the first bloom.
For new plantings
 – Apply at least one teaspoon of FFC into the holeexcavated for the new plant. Place the root ball on top of the FFC and cover with soil.
Benefits:
 One application of Seagate FFC can continue to feed plants and flowers up to 4 to 5 months. One container can fertilize hundreds of plants. There is no finer fertilizer that can be applied to your vegetable garden. This product will contribute to huge rose blooms, and insect and disease resistant healthy plants and trees. Seagate FFC is the only fertilizer used on our farm to grow carrots, garlic, and broccoli, and in our garden to grow huge roses.