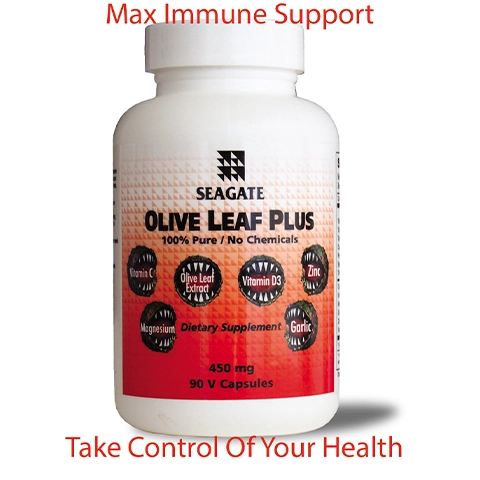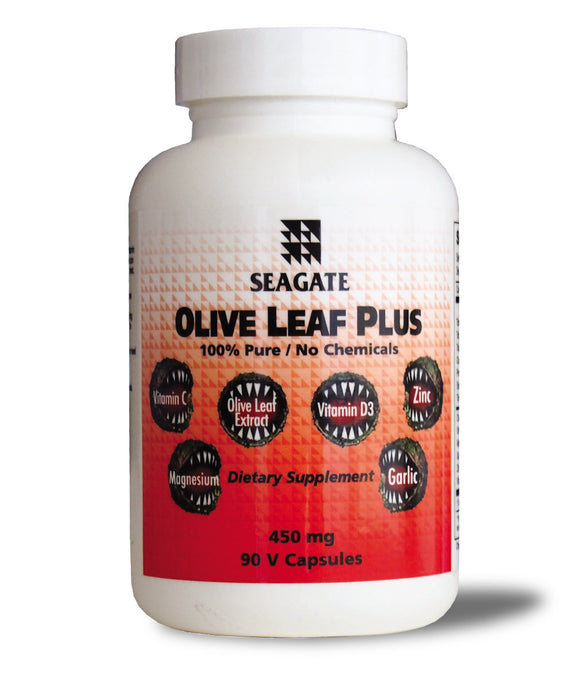 Olive Leaf Plus 450mg 90 V caps
Suggested Use: Adults, take 4 capsules/day.
Ingredients: One Serving of 4 capsules/day contains:
Olive Leaf Extract 1,000 mg
Vitamin C                 500 mg
Vitamin D3             4,000 IU
Zinc                             33 mg
Garlic                          40 mg
Magnesium               200 mg
Purpose: Seagate has combined 6 premium immune-support ingredients into one capsule.
Olive Leaf Extract - Seagate's premium immune support. Grown and processed by Seagate.
 Vitamin C - Also called ascorbic acid, it is necessary for the growth, development, and repair of all body tissues. It is involved in many body functions, including the formation of collagen, absorption of iron, the proper functioning of the immune system, wound healing, and the maintenance of cartilage, bones, and teeth.
Vitamin D3 - It can help strengthen bones and muscles, boost immunity, increase mood, aid in weight loss,  and improve heart function.
Zinc - It helps keep your immune system strong. Because it is necessary for all immune cell function and cell signaling, a deficiency can cause a weakened immune response. Zinc supplements stimulate particular immune cells and reduce oxidative stress
Garlic  - It provides a host of antioxidants phytochemicals that can support your immune system, affect cholesterol, inflammation, heart, and blood pressure.
Magnesium - It plays many crucial roles in the body, such as supporting muscle and nerve function and energy production.
Dietary support may be needed to protect you against resistant strains of microorganisms. Sometimes we need to take some control over our own health and not be completely dependent on the government.